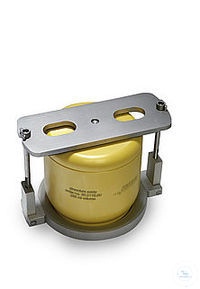 The picture may be different from the article and can include supply, which is not in the standard scope.
special sealing system for ball-mills (inert gas)
---
Order-No.: 90140000
822,00 € for 1 piece
---
Article-No:

90.1400.00

Validity:

31.12.2021

Last Update:

31.12.2020
Additional lock-system for all grinding bowls 500 ml, 250 ml, 80 ml volume (for the transport of the closed grinding bowl)
With this special Additional Lock-System, you can gas-tight seal your grinding bowls for transport between filling in the glove box and the mill. With an additional adapter, it can also be used for small grinding bowls.
| Description | value |
| --- | --- |
| Net weight: | 900 g |
| Description | value |
| --- | --- |
| Customs tariff number: | 84799070 |
| Country of origin: | Germany |
| County of origin: | Rhineland-Palatinate |
| Dual use statement: | No |
| Präferenzkennung: | Yes |