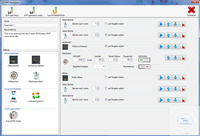 The picture may be different from the article and can include supply, which is not in the standard scope.
Software MillControl
---
Order-No.: 83560500
638,00 € for 1 piece
---
Article-No:

83.5605.00

Validity:

31.12.2021

Last Update:

31.12.2020
for automatic control and monitoring of the mill and for continuous measurement of gas pressure and temperature directly in the EASY GTM grinding bowl.

The Planetary Micro Mill PULVERISETTE 7 premium line can be operated either directly via the user-friendly touchscreen of the instrument or with the software MillControl. The software offers users all the features which are found on the instrument itself, but adds additional aspects in the operation of the Planetary Mill:
Control and graphical display: of the set and actual rotational speed and power consumption.
Definition of grindings: furthermore the user can define grinding processes with different parameters with the aid of the SOP's, for example 2 x 2 minutes with 900 rpm with pauses of 6 minutes, then 3 x 1 minute at 1200 rpm with a 8 minute pause and as conclusion 2 x 3 minutes at 600 rpm.
SOP's: the SOP's may be saved and retrieved at any time, which makes a standardized execution of grindings for constantly recurring grinding tasks with exactly identical conditions possible. The analysis of the grindings, as well as the graphic display of the results, can be defined in a manner so even here standardized reports with the corresponding parameters can be generated.
Archive-Function: MillControl includes an archive-function which allows the accessing of previous grindings and for example compare these with recent grindings which is especially interesting for the pharmaceutical industry.
Simple installation: the software is delivered on a USB, can be easily installed and is suitable for Windows 7, XP und Vista.
| Description | value |
| --- | --- |
| Net weight: | 20 g |
| Description | value |
| --- | --- |
| Customs tariff number: | 85235190 |
| Country of origin: | Germany |
| County of origin: | Rhineland-Palatinate |
| Dual use statement: | No |
| Präferenzkennung: | Yes |