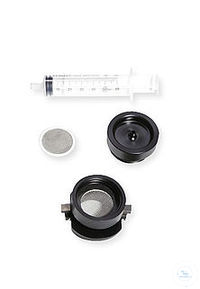 The picture may be different from the article and can include supply, which is not in the standard scope.
special emptying device for grinding bowls P-7premium line
---
Order-No.: 50990000
434,00 € for 1 piece
---
Article-No:

50.9900.00

Validity:

31.12.2021

Last Update:

31.12.2020
The special emptying device for premium line grinding bowls enables an quick and easy separation of grinding balls and suspension after the grinding process.
For this purpose, the device is firmly attached onto the girnding bowl, the suspension is drawn out with the syringe and the balls remain in the bowl.
| Description | value |
| --- | --- |
| Net weight: | 320 g |
| Description | value |
| --- | --- |
| Customs tariff number: | 84799070 |
| Country of origin: | Germany |
| County of origin: | Rhineland-Palatinate |
| Dual use statement: | No |
| Präferenzkennung: | Yes |