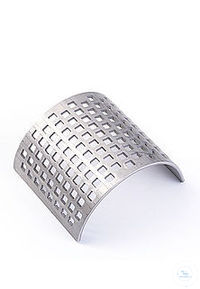 The picture may be different from the article and can include supply, which is not in the standard scope.
sieve insert P-15 4 mm square perf., chromium-free steel
---
Order-No.: 45220009
147,00 € for 1 piece
---
Article-No:

45.2200.09

Validity:

31.12.2021

Last Update:

31.12.2020

Similar articles:

Show (3)

Alternative articles:

Show
Sieve inserts determine the final fineness of a sample.
Sieve inserts with trapezoidal perforation and square perforations are offered. Sieve inserts with square perforation are recommended for the grinding of brittle materials and materials of medium fineness with a narrow grain band. Sieve inserts with trapezoidal perforations improve size reduction through extra shearing action.

For the sample preparation according to RoHS and WEEE (for the poof of hexavalent chromium) and for the XRF-analysis we recommend FRITSCH-sieve inserts made of chromium free steel ST12.
| Description | value |
| --- | --- |
| Net weight: | 150 g |
| Description | value |
| --- | --- |
| Customs tariff number: | 84799070 |
| Country of origin: | Germany |
| County of origin: | Saarland |
| Dual use statement: | No |
| Präferenzkennung: | Yes |