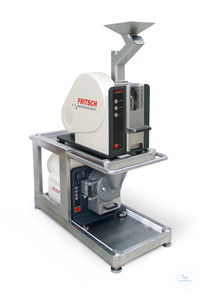 The picture may be different from the article and can include supply, which is not in the standard scope.
mounting rack P-1/P-13 pl with Sample Splitter
---
Order-No.: 43600000
7.018,00 € for 1 piece
---
Article-No:

43.6000.00

Validity:

31.12.2021

Last Update:

31.12.2020
For especially fast continuous premium pre- and fine-grinding of large quantities of coarse material, the combination of the Jaw Crusher PULVERISETTE 1 premium line and the Disk Mill PULVERISETTE 13 premium line is the ideal solution. Together, they form an efficient, heavy-duty, high-performance grinding instrument with integrated Riffle Sample Splitter. Giving you the full range of opportunities for optimal sample preparation with a feed size of up to 95 mm and final fineness of down to 0.05 mm - all in a single step.

Integrated representative sample division
After the comminution in the Jaw Crusher PULVERISETTE 1 premium line, the ground material falls directly into the Riffle Sample Splitter integrated in the collecting vessel and is automatically divided into representative samples. The division ratio can be set as desired, from 1:1 to 1:6.
Select the appropriate grinding parts and the desired configuration from the options available for the PULVERISETTE 1 and 13 premium line.
| Description | value |
| --- | --- |
| Net weight: | 155 kg |
| Description | value |
| --- | --- |
| Customs tariff number: | 84799070 |
| Country of origin: | Germany |
| County of origin: | Rhineland-Palatinate |
| Dual use statement: | No |
| Präferenzkennung: | No |