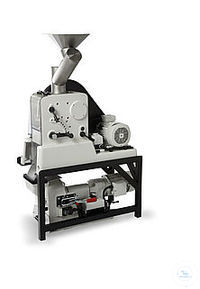 The picture may be different from the article and can include supply, which is not in the standard scope.
mounting rack cpl. for P-1/ P-13 classic line
---
Order-No.: 43510000
2.059,00 € for 1 piece
---
Article-No:

43.5100.00

Validity:

31.12.2021

Last Update:

31.12.2020
For fine pre-crushing of sample material with a feed size of 95 mm down to 0.1 mm final fineness in a single process and for continuous operation with the Jaw Crushers PULVERISETTE 1 classic line

Fine pre-crushing from 95 mm down to 0.1 mm in a single process
A mounting rack with chute in combination with the Jaw Crusher PULVERISETTE 1 (Model I + II) classic line and the Disk Mill PULVERISETTE 13 classic line make it possible to grind 95 mm feed material down to a final material fineness of 100 µm in a single process. Continuous comminution is also possible.


Continuous operation
With the operation of the mounting rack and delivery chute, the jaw crushers PULVERISETTE 1 (Model I + II) classic line can be used for continuous operation.
| Description | value |
| --- | --- |
| Net weight: | 17 kg |
| Description | value |
| --- | --- |
| Customs tariff number: | 84799070 |
| Country of origin: | Germany |
| County of origin: | Rhineland-Palatinate |
| Dual use statement: | No |
| Präferenzkennung: | Yes |