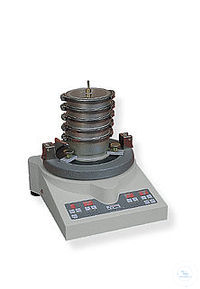 The picture may be different from the article and can include supply, which is not in the standard scope.
funnel/sieve pan with outlet for micro-sieving
---
Order-No.: 33115000
276,00 € for 1 piece
---
For dry and wet sieving with micro-precision sieves 100 mm dia.
The funnel (sieve pan) made of aluminium with outlet completes the sieve stack.
Order example for a sieve stack with 4 micro-precision sieves:
1.
4 micro-precision sieves of your choice
2.
1 tensioning set for micro-precision sieves 100 mm diameter
Order no. 33.1200.00
3.
1 clamping lid aluminium/Plexiglas with 1 nozzle
Order no. 33.1050.00
4.
1 funnel (sieve pan) of aluminium with outlet
Order no. 33.1150.00
5.
5 sieve spacer ring of aluminium with 2 seal rings
Order no. 33.1000.00
6.
6 fast locking clamps of stainless steel
Order no. 33.1100.00
| Description | value |
| --- | --- |
| Net weight: | 1 kg |
| Description | value |
| --- | --- |
| Customs tariff number: | 84799070 |
| Country of origin: | Germany |
| County of origin: | Rhineland-Palatinate |
| Dual use statement: | No |
| Präferenzkennung: | Yes |