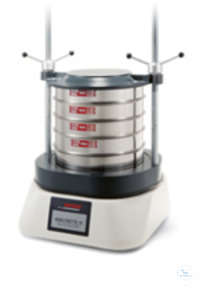 The picture may be different from the article and can include supply, which is not in the standard scope.
Heavy Duty Sieve Shaker ANALYSETTE 18 for 115 V/1~
---
Order-No.: 18301000
7.685,00 € for 1 piece
---
Article-No:

18.3010.00

Validity:

31.12.2021

Last Update:

31.12.2020

Similar articles:

Show (2)

Alternative articles:

Show
The ANALYSETTE 18 is a Heavy Duty Analytical Sieve Shaker which was especially built for the processing of large amounts of sieving materials. It specifically eliminates the disadvantages of lighter sieve shakers, where the weight of the sample and the sieves may at least partially influence the sieving results. Where ever manual sieving has to be replaced due to economical reasons or for improved reproducibility, the ANALYSETTE 18 is perfect. Through the use of automatic sieve evaluation, sieving results are not only faster available, but also more dependable. Mistakes during weighing and during the calculation of the individual sieve functions become obsolete, since the entire evaluation is performed via computer.

| | |
| --- | --- |
| analysis method: | dry sieving |
| Measurement range: | 20 µm - 125 mm |
| Max. sample quantity: | approx. 15 kg |
| Sieving time: | approx. 5 - 60 min |
| Max. sieve diameter: | 450 mm / 18" |

Areas of application
The ANALYSETTE 18 is used for particle size analysis and portioning of coarse-grained materials. The maximum input quantity of 15 kg for the material to be sieved and the sieve stack also allows use in pilot line production or for serial analysis of large quantities.
Method of operation
The ANALYSETTE 18 is a Heavy Duty Analytical Sieve Shaker that was specially designed for processing of large sieving quantities. It intentionally avoids the disadvantages of lighter sieve shakers in which the sample and sieve weights can sometimes significantly affect the sieving results.
Two unbalanced motors situated in phase opposition under exactly defined angles create optimal vibrations of the test sieves mounted to the sieve plate. After elapsing of the sieve time, both motors are precisely braked.
With this construction the sieving material is not only accelerated horizontally so the movement of the material is subject to a permanent change of direction which results in a short sieving time and an increased separation efficiency.
Features overview
Three-dimensional sieving motion for particularly fast sieving results, without manual re-sieving, optimal reproducibility
Operation by remote control via a separate, handy operating unit
Up to 12 test sieves (65 mm height) with sieve pans and lid can be used per working cycle
Sieves in mesh widths from 20 µm to 125 mm according to ISO 3310-1, ASTM E-11-1995
Universal support plate for sieves Ø 200, 250, 300, 315, 350, 400, 450 mm and 8, 12, 16, 18 inch sieve diameters
Sieves can be calibrated according to ISO 9001
Automatic amplitude control with continuous acceleration measurement of the whole sieve stack.
Multilingual AUTOSIEVE programme for automatic evaluation, monitoring, documentation of results
Material quantity up to 15 kg
TwinNut fastening system for sieves and clamping lid ensure constant tensioning pressure and stability
Robust design for heavy-duty operating conditions
Two maintenance-free unbalanced motors
2-year warranty
AUTOSIEVE programme
The multilingual AUTOSIEVE programme for automatic evaluation, simple monitoring and documentation of your sieving results is supplied on a practical USB stick and is therefore very quickly installed. All you have to do is to connect a laboratory analysis balance and then weigh the sieves before and after sieving using differential weighing. AUTOSIEVE will do the rest. The software, which is suitable for Windows 7, XP and Vista, enables simple saving and retrieving of empty sieve weights, both of single sieves and complete sieve sets.
Equipment
The standard equipment delivered with the Heavy Duty Analytical Sieve Shaker ANALYSETTE 18 includes tensioning and sieve cover, but does not include test sieves or sieve pan. For sieving fine-grained materials or agglomerates, the use of for example vulkollan cubes are recommended.
| Description | value |
| --- | --- |
| Net weight: | 135 kg |
| Description | value |
| --- | --- |
| Customs tariff number: | 84798200 |
| Country of origin: | Germany |
| County of origin: | North Rhine-Westphalia |
| Gross weight: | 172 kg |
| Dual use statement: | No |
| Präferenzkennung: | Yes |