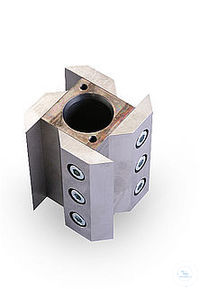 The picture may be different from the article and can include supply, which is not in the standard scope.
rotor P-15 chromium-free steel with rotating and fixed knives
---
Order-No.: 15460200
1.660,00 € for 1 piece
---
Article-No:

15.4602.00

Validity:

31.12.2021

Last Update:

31.12.2020

Similar articles:

Show (2)

Alternative articles:

Show
Grinds the sample gentle with a pure cutting action.
The rotor made of chromium-free tool steel is especially recommended for sample preparation according to RoHS and WEEE (for example for trace of hexavelent chrome) or XRF analysis. For all other applications the rotor of tool steel can be used, because of its hardness and top resistance against abrasion.
| Description | value |
| --- | --- |
| Net weight: | 3,6 kg |
| Description | value |
| --- | --- |
| Customs tariff number: | 84799070 |
| Country of origin: | Germany |
| County of origin: | Rhineland-Palatinate |
| Dual use statement: | No |
| Präferenzkennung: | Yes |