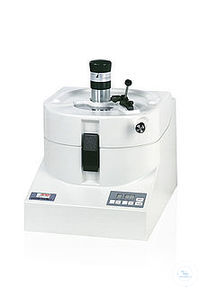 The picture may be different from the article and can include supply, which is not in the standard scope.
Mortar Grinder PULVERISETTE 2
---
Order-No.: 539802200
4.760,00 € for 1 piece
---
Article-No:

02.2000.00

Catalogue-No:

539802200

Validity:

31.12.2021

Last Update:

31.12.2020
For universal grinding of medium-hard-brittle to soft-brittle grinding materials (dry or in suspension) to analysis fineness. For creation and homogenisation of pastes and creams at laboratory scale.
Max. feed size:
(depends on material)
8 mm
Max. throughput per batch:
150 ml
Final fineness:
10 - 20 µm
Rotor speed:
70/80 rpm
Areas of application
Mining and metallurgy, chemistry, geology and mineralogy, glass, ceramics, agriculture, foodstuffs, pharmacy, stones and soils.
Method of operation
Similar to a hand mortar, the grinding sample is comminuted by pressure and friction between a pestle and mortar bowl. The mortar bowl is turned by a gear motor and drives the pestle with its freely rotating bearing through friction.
Features overview
Fast, uniform comminution
Introduction of additional materials into the ongoing process
Removal and installation of mortar bowl and pestle requires no tools (bayonet quick catch)
Reproducible pestle adjustment without tools even during grinding
Preliminary comminution setting for coarse samples
Easy cleaning thanks to removable mortar bowl and pestle
7 different materials for mortar and pestle for pure sample grinding
Certified safety (CE mark)
2-year warranty
Equipment
The standard equipment delivered with the mortar grinder PULVERISETTE 2 does not include grinding sets. Mortars and pestles (= grinding sets) are offered in 7 different materials and must be ordered as accessories.
| Description | value |
| --- | --- |
| Net weight: | 24 kg |
| Description | value |
| --- | --- |
| Customs tariff number: | 84798200 |
| Country of origin: | Germany |
| County of origin: | Rhineland-Palatinate |
| Gross weight: | 26 kg |
| Dual use statement: | No |
| Präferenzkennung: | Yes |