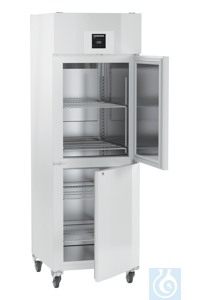 The picture may be different from the article and can include supply, which is not in the standard scope.
LGPv 6527-40 LABORGEFRIERGERAET PROFILINE VENTILIERT
---
Order-No.: 991424051
Price on request for 1 piece
---
Article-No:

991424051

Category:

Freezers

Index:

Validity:

31.01.2021

Last Update:

29.02.2020
Labor Kühl- und Gefriergeräte von Liebherr
Kühl- und Gefriergeräte für den Einsatz im Labor und bei der Forschung müssen ganz besonders hohe Anforderungen erfüllen, speziell in puncto Sicherheit und Temperaturkonstanz. Liebherr-Geräte verfügen deshalb über zahlreiche Funktionen und Ausstattungsmerkmale, um sensible Proben, empfindliche Chemikalien und Forschungsmaterialien bestmöglich zu lagern. Die präzise Elektronik ermöglicht eine gradgenaue Temperatureinstellung – und schafft in Verbindung mit der hochwirksamen Isolation und dem dynamischen Kühlsystem optimale Lagerbedingungen. Integrierte optische und akustische Alarmsysteme warnen bei unerwünschten Temperaturabweichungen. Die Kühl und Gefriergeräte von Liebherr bieten Ihnen die Sicherheit, die im Labor- und Forschungsbereich zählt – 24 Stunden am Tag, 365 Tage im Jahr.

Alarm-, Speicher-, und Sicherheitsfunktionen
Liebherr MediLine Kühl- und Gefriergeräte mit Profi -Elektronik tragen zum Schutz Ihrer eingelagerten Waren bei. Sie bieten eine Vielzahl von Alarm-, Speicher-, und Sicherheitsfunktionen, die dazu entwickelt wurden das Verlustrisiko eingelagerter Waren erheblich zu reduzieren.

Weitere Informationen entnehmen Sie den beigefügten Literaturen.
| Description | value |
| --- | --- |
| Net weight: | 133 kg |
| EAN Code: | 9005382213179 |
| Description | value |
| --- | --- |
| Customs tariff number: | 84184080 |
| Country of origin: | Austria |
| Gross weight: | 160 kg |
| Packing width: | 0,745 m |
| Packing height: | 2,22 m |
| Packing depth: | 0,845 m |